Reading: Little Guardians Book 1
on
June 18, 2013
at
1:00 am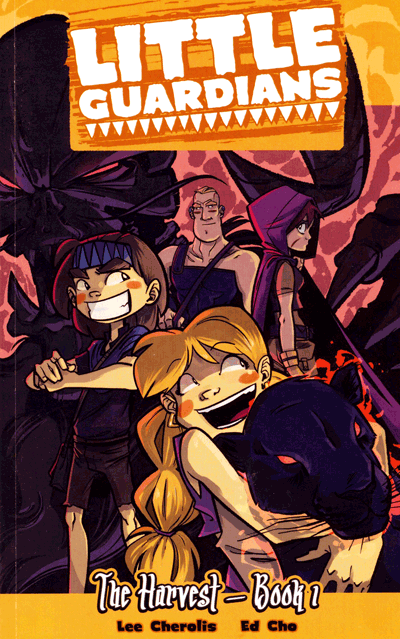 I've been catching up on my (huge!) backlog of reading and I'd like to share my thoughts on some really awesome comics you may not read or know about but should. Most of my reviews will fall under either all-ages or horror (maybe both!) This one is an all-ages comic that happens to have some creepy stuff in it as well.
So first up is Little Guardians: The Harvest – Book 1 illustrated by Lee Cherolis and written by Ed Cho. This is the first printed collection of their webomic which can be found at http://www.littleguardianscomic.com/
Little Guardians takes place in a fantasy world and focuses on the simple folk of Yowza Village. The village is protected from the many evil demons and monsters that plague their land by the Guardian Tane. He fights the supernatural threats with his own mystical weapons and his spirit animal, a horse.
The Harvest starts with a Prologue which begins with 2 births, Thane's child and Yunda, the local shop keeper's baby. The village doctor, Marburger, seeing the Guardian's wife (who dies in childbirth) has given birth to a daughter (a seeming taboo for the family line of Guardians) switches the baby with Yunda's newborn son. The only one who knows that he did this is his nurse Hazeldella, who is the chronicler of the story.
Next is Chapter 1 – The Zucchini Festival where the story jumps to see the children older (10-12ish). Idem, the boy, being raised by Tane is training to be the next village guardian, with only so-so results. Subira, the girl, is now living a 'Cinderella-like' life being the overworked daughter of a shop keeper. We see how Subira's inherited skills of the Guardian line manifest themselves despite ignorance of her abilities and how Idem's lack of these gifts get him into trouble. I don't want to spoil the story but it ends with an attack on the village and it left me wanting to read more!
Cherolis and Cho have created a well-planned, intriguing fantasy world which we only get to see a small piece of in this first book. There is a looming supernatural threat to the land that may be too much for even the Guardian Tane. The characters are so much fun and you immediately care about them, especially Subira and Idem. You root for them as they struggle with their switched destinies.
As a added bonus, Book 1 includes excerpts from 'A Study of Supernatural Creatures' by 'Sir Thistlewhite III.' Here you can read observations about the strange creatures that populate this fantasy world like the Tornado Fist and the Cage Bear. Lots of cool monsters and a further testament to the creators vivid imaginations.
The writing by Cho is engaging, giving each character their own 'voice'. I know I've described the serious plot but Cho gives us plenty of humorous dialogue and banter. It makes reading this comic a fun, breezy read.
I love Cherolis's art in this! His black and white anime-ish art is enhanced by his expert use of grey tones. The layouts are clear and easy to follow and his characters are distinct. He gives his 'actors' great facial expressions that go from amusing to serious.
Together they have created a comic they can be very proud of and one that I hope is recognized and read by many young and old. There are so many comics out there now but I hope you discover this one and give it a try. Again their website is http://www.littleguardianscomic.com/  where you can read the comic online or go to their store and buy this Book 1 in print. I can't wait for Book 2!